The Infamous 18 Culmination - all 18 Holes are pictured together with The Club House (19th Hole). Either of the prints below would be a great gift item for anyone who loves golf.
See if you can locate all 18 Holes surrounding The Club House. Click Hole 1 to start a tour.
The Club House (19th Hole) is surrounded by the Infamous 18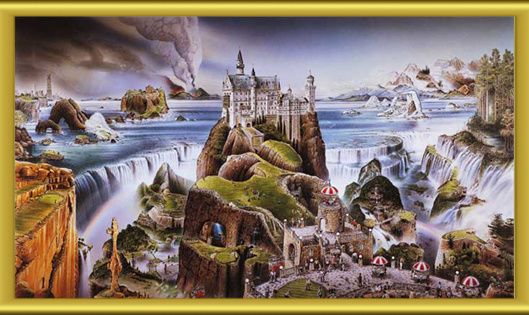 ---
INTERESTED IN A COMPLETE COLLECTION SET?
---
Copyright © 1975-PRESENT Loyal Chapman/U.S.A., Minneapolis, MN
SomeSome Animations and Audio portions created by AboutGolf
Infamous18 Only Sells Authorized Artwork Fulfilled by Chapman Studios
Powered by FastStores.com, a Service of Virtual Store Inc.
www.Infamous18.com, www.BudChapman.com, www.Famous18.com,
www.Fantasy18.com, www.FantasyGolfClub.com, www.HolesClub.com, www.HoleOfTheMonth.com,